Assistant Professor of English and English Public Relations and Events Coordinator
Contact: wgao4@ucmerced.edu Website: Weisong Gao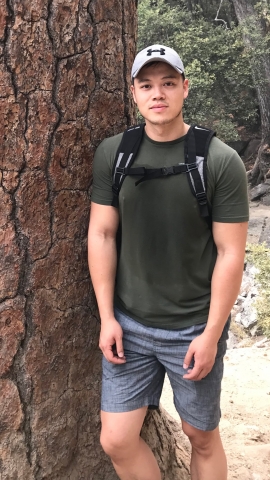 Dr. Gao is an Assistant Professor of English at the Department of Literatures, Languages, and Cultures at the University of California, Merced. He received his Ph.D. degree in English from the University of Florida, and a Master's degree in Humanities and Social Thought from New York University. His specialization is queer theory, diaspora studies, twentieth and twenty-first century literature, particularly Asian Anglophone and LGBT literature.
Dr. Gao's research is interdisciplinary in nature and brings feminist, queer, disability, affect, and performance theory to the study of literature, film and culture. Currently, he is working on his book manuscript, which focuses on the aesthetics of queer Asian diasporas. This project argues that the aesthetic engagements by diasporic subjects, particularly those negative ones deemed by the Western liberal narratives such as inscrutability, waywardness, and suspense, lay bare the problematics of white liberalism's politics of recognition, citational practices, and its use of simple representation as the solution to the minoritarian oppressions, and in doing so, the project shows the potential of these "negative aesthetics" as a way of coping and healing from the debilitating white liberalism.
In his dissertation, Dr. Gao analyzes how queer world-making happens in novels and films not typically part of the LGBT canon. Through historical, literary, and aesthetic analysis of transnational queer texts such as Monique Truong's The Book of Salt, Tomson Highway's Kiss of the Fur Queen, and Chen Kaige's film Farewell My Concubine, he shows how social relations across cultural, gender, racial, and sexual differences can be formed through various modes of sensory experience, which allows these authors to imagine a different world formation that is greatly liberal and egalitarian.
Dr. Gao's articles appear in various academic venues. For example, his article "Unimagined Communities in a Time of Global Crisis" was published in Journal of Applied Communication Research in 2020. In this article, by meditating on his own COVID-19 quarantine experience, he discusses how diaspora and immigration are complicated by the global pandemic. He proposes that we pay close attention to the transnational aesthetics as a productive way to offer insights into diaspora and immigration, particularly during a time of crisis. In another article titled "Thousand Hands Bodhisattva: Aesthetics, Affect, Sensational Disability," published in Disability Studies Quarterly in 2017, Dr. Gao examines the 2005 Spring Festival Gala performance of Thousand Hands Bodhisattva by deaf dancers from China Disabled People's Performing Art Troupe. By analyzing the relationship between audiences and performers, he demonstrates how Thousand Hands Bodhisattva asks audiences to reconsider disability not as an identity but as a new form of social relation, one prioritizing interdependence as a common ground for human experience.
Dr. Gao coauthored his first book titled Analytical Writing Handbook, published by China Machine Press in 2019.
Courses Professor Gao teaches at UC Merced: ENG 010: Foundations of Literary Studies; ENG 055 Introduction to Short Stories; ENG 062: Literature and Gender; ENG 063: Twentieth-Century Women Writers; ENG 064: LGBT Fiction; ENG 129: Asian American Literature; ENG 129: Literature and Emotion; ENG 129: Global Women Writers; ENG 183: Literature and Queer Ecology; ENG 184: Literature and Queer Studies.
Updated 2022