Why are English degrees useful?  
• Employers and graduate schools of all types hire English majors and admit English majors into their programs because they know that English majors know how to: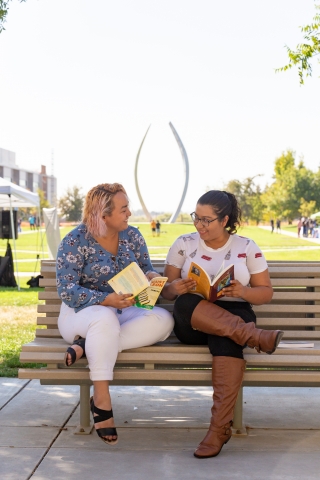 • Write orally and effectively and persuasively  
• Empathetically value other perspectives  
• Comprehend the connections in a global world 
• Communicate orally effectively and persuasively.  
• Read texts closely and critically, and synthesize complex ideas 
• Evaluate how we know what we know 
• Interpret and evaluate culture 
The English major and minor teach transferrable skills that are attractive to employers in all sectors, from engineering to law to medicine to business.  
See this Forbes magazine article on how humanities majors like English majors are the tech industry's new "hottest ticket."
Or this piece in the Harvard Business Review about how important humanities thinking is to the skills needed in the Digital Age.
Or this article in The Atlantic on how the humanities trains entrepreneurs.
Business Insider also lists why the business world values humanities majors. 
Medical professions also value English majors, because of their ability to connect with patients and hear their stories. In fact, more English majors—by percentage—are accepted into medical school than biology majors! 
Learn more why good doctors should study English in Pacific Standard Magazine  
And why Business Insider notes that a surprising number of doctors were English majors. 
Literary study gives one insight into how cultures operate in such a way as to facilitate ethical cross-cultural interactions. See for example this article in the New York Times about the "triumph of the English major."
Many publications have also commented that society and democracy depend on the humanities. "Society needs the humanities," says the Seattle Times. 
And finally, English majors report high levels of satisfaction while in college: they are reading interesting books; discussing them with intelligent, excited peers and professors in small settings; and sharing their own stories. 
What can I do with an English major? 
An English major is one of the most popular liberal arts degrees in the world; this is a BA degree that is immediately recognizable to employers, graduate schools and law schools. These employers and schools will know that by hiring or accepting an English major, they are hiring someone who can interpret and analyze texts, think critically and view problems from multiple perspectives, have empathy for others, and communicate and write clearly. 
English majors become:  
• journalists, writers, editors, poets, translators: producing and distributing new writing 
• teachers and librarians: sharing their love of literature, theater, or writing 
• lawyers: applying their skills of analysis and interpretation 
• doctors, nurses, physical therapists: using a capacity for diagnosis and communication 
• entrepreneurs, marketers, business people: leveraging their communication and analytical skills to succeed in the business world 
• social workers, politicians, non-profit workers: applying social justice insights to work for a more just society 
UC-Merced English and Literature Graduates in the World  
UC-Merced English and Literature graduates have been accepted into some of the nation's best law schools; to PhD programs in English, Literature and Disability Studies, and Interdisciplinary Humanities; and to Masters programs in writing, literature, journalism, library science, theatre arts, education, and sports management.  
Recent UC Merced English program graduates include: 
     Natalie Robertson and Bias Collins, who are pursuing PhDs in English at UC Davis and in Literature and Disability at UC San Diego, respectively. 
     Shavone Charles, who interned with the US Congress and Black Entertainment Television (BET) before working at Instagram and then founding her own creative tech company. 
     Shawna Lin, who was hired by Yosemite National Park after graduation and is now works in the legal profession in San Francisco.
     Monica Perales, who is Neighborhood Initiatives Coordinator with the non-profit Restore Merced.
     Ignacia Chu-Jacoby, who joined AmeriCorps and worked as a tech specialist for the Boys & Girls Club and now works for tech start-up Corelight, Inc. 
     Alex Curtis, who got a masters in Sports Management at University of San Francisco and is now brand activation manager at Science in Sport.
     Victoria Haidel and Latasha Means, who now work in the UC Merced library.
     Sologne Patterson, who earned her Masters of Theatre Arts at UC-Santa Cruz and now teaches theatre at Oakland School for the Arts.
     Eddie Gomez and Manivone Sayasone, who earned MFAs in creative writing at Fresno State.
     Ailyn Pambid, who received her Masters in literature at San Francisco State and works as a marketing associate in San Francisco.
In the words of our students, "English is Lit!"