Courses in English
The English program offers many courses in English literature and language, which serve our English major and minor as well as the entire UC-Merced student body through our several courses that satisfy General Education requirements. 
LOWER DIVISION LECTURES:
ENG 020: Introduction to Shakespeare Studies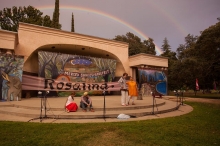 In this course, students are introduced to the plays and poetry of William Shakespeare. We read a few texts from representative genres (six or so plays and several sonnets), slowly considering each scene or poem in depth in order to develop the skills needed to read and understand this challenging literature. We will also read materials explaining the historical contexts that shaped these plays, and consider why they continue to be so popular throughout the world. You will learn about both historical and modern-day performances of Shakespeare's works by viewing several films and a live performance, and by reciting or performing yourself. 
ENG 021: Why Harry Potter? Why English?
The Harry Potter series tops many lists, among them the American Library Association's list of books most frequently challenged or banned. Most attackers see the books as supporting satanic practices.  Such attacks have brought out defenders as well, with many saying that any books that get boys to read are valuable on that ground alone and that these books are more than just literacy lessons: they also teach morality.  Indeed, the books were published in the U.S. by Scholastic Publishers, a company that thrives by selling fiction as the sugar-coating on the pill of learning.  Publicly attacked and defended on moral grounds, the books' popularity seems to come from some other source.  News stories from July 2007 quote numerous fans lamenting the publication of the last book not as the end of learning, but rather as the end of childhood, and the fact that many U.S. colleges and universities now have quidditch as a club sport suggests that these young people do not want to let childhood go. 
So the Harry Potter phenomenon might help us answer some fundamental questions about literature.  Is there a necessary relationship between fiction and ethics?  How is it that fiction gives pleasure?  More fundamentally, given that books like these can evoke such wildly different reactions, is it possible to interpret literature "accurately"?  Or rather, how do we know what stories mean? How do stories create individual and group identity? To answer these questions, we will read several Harry Potter novels and will read selections from a few of the numerous literary antecedents Rowling drew on when creating her series—such as various myths from Ovid's Metamorphoses, various tales from English and Continental folklore, Shakespeare's Macbeth, Carroll's Through the Looking Glass, Homer's Odyssey, the story of the ring of Gyges from Plato's Republic, Sophocles's Oedipus Rex, the Faustus story (either in Marlow or Goethe), Dickens's Great Expectations. In the process we will examine creativity (both of authors and of the readers who co-create stories), the ways that literary art stirs emotions, the ways in which communities and traditions of reading guide interpretation, and the ways human beings use stories to structure personal and group identities. 
ENG 030: Literature of Childhood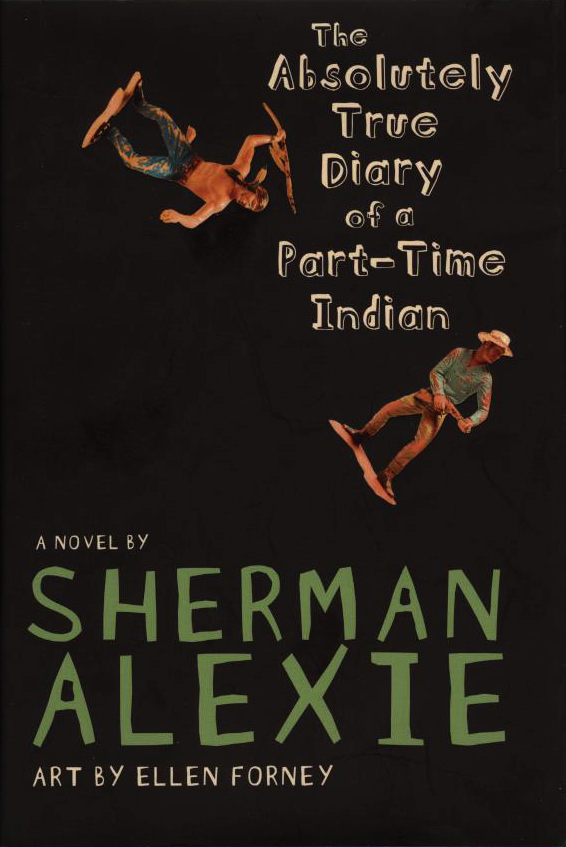 This class reads a variety of books written for children: books that explore the hilarity of childhood, but also its poignancies. In addition, students read short stories and works of fiction that use the idea of childhood to explore a variety of themes from poverty to race, works of literature written for adults that reflect on the literally formative experience that is childhood. Texts will include class novels like Alice in Wonderland and the Secret Garden, poetry by William Blake, Robert Lewis Stevenson, and Langston Hughes, picture books like Where the Wild Things Are, works for adults like Toni Morrison's Bluest Eye, and contemporary fiction likeThe Absolutely True Diary of a Part-Time Indian and Persepolis.
ENG 031: Introduction to African American Literature and Culture
The study of the African American experience and subjectivity across four centuries in the Americas in legal, historical, social, political, literary and cultural perspective. Instruction and close readings of slave narratives and autobiography, cultural renaissances from Harlem to Paris, black power and black arts movements, musical formations, the intersections of jazz, hip-hop and philosophy, post-black aesthetics, Diasporic, Afro-Asian, and Afro-Latin identity, and study of the American presidency, urbanity, and the prison industrial complex. 
The African American experience spans four centuries, from the initial settlement of North America by Europeans and the establishment of the trans-Atlantic slave trade, to the present day. This interdisciplinary course examines the social thought, cultural mores, religious institutions, intellectual history, political challenges, literary traditions and expressive arts of people of African descent in the Americas. Among the focal points are the centrality of the African American experience to important legal, historical, political, and cultural developments in the formation of the United States, and the acts of self-making or self-fashioning that African Americans performed in response to difficult odds and circumstances. The course surveys African-American subjectivities and the social construction of black life from slavery to the present from historical, sociological, political and literary perspectives. This can include, for example, close readings of slave narratives and women's autobiography, visual analysis of Harlem Renaissance art production, examinations of Blacks Arts poetry and manifestos, unpacking of African-American spirituals and jazz laments, interrogation of the Prison Industrial Complex and its affect on African-American life, discussions on the intersections of hip hop music and philosophy, post-black aesthetics, Diasporic, Afro-Asian, and Afro-Latin identity, and study of the American presidency.
ENG 032: Introduction to Chicano/a Culture and Experiences
This course provides an introduction to Chicano/a cultural practices and experiences, with an emphasis on the ties between culture, race, gender, social class, language, historical developments, artistic and literary expression, migration and transculturation. We will analyze changes in Chicano/a culture and cultural practices as Chicanos/as adapted to different historical and social circumstances. In so doing, the course will approach culture from an interdisciplinary perspective that benefits from critical insights in History, Sociology, Arts, Folklore, Anthropology, and Education, among other disciplines.
LOWER DIVISION SEMINARS:
ENG 052: Politics and Prose of the Nobel Prize in Literature
After more than a century and 110 recipients, the Nobel Prize in Literature has greatly impacted world literature and prompted lively debates about the arts, literary merit, and national and cultural representation. This course delves into the art and politics of the Prize, reads major works of recent laureates, and contends with claims and imaginings of a universal canon, a new "literary space" comprising works that express, as Horace Engdahl, Permanent Secretary of the Swedish Academy suggests, "the power of great literature to transcend national borders and to conquer distances in space, time, and culture."
ENG 056: Introduction to World Drama
In this course, students read plays performed in ancient Greece and as recently as a few years ago. This seminar is intended for English majors fulfilling a lower-division seminar requirement, and for any non-major wanting to learn more about the history of Western drama (in the future it may be cross-listed with GASP). The course aims for both breadth and depth: students read everything from Aeschylus to Noh Dramas to Suzan-Lori Parks, but spend enough time on each play to learn about its historical and theatrical context. Students learn how to read dramatic literature with an eye and ear toward both historical and modern-day performance.
ENG 057: Introduction to Poetry
This course will equip students with the tools necessary to approach, evaluate, and enjoy this infamously peculiar and wonderful medium of language. We will read everything from classic sonnets to the cutting-edge poetry of today.
ENG 058: Literature and the Natural Environment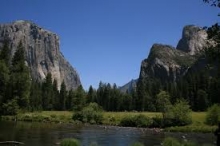 This course introduces students to the vast production of literature about the natural environment: wilderness, nature, and the natural world.  The course surveys poetry, essays, and fiction while also keeping in mind specific developments in land uses and political responses to owning the environment. This class explores a variety of genres and topics within the wide rubric of nature writing.
ENG 059: Apocalyptic Literature
The idea of "the end of the world" is as timeless as human history-- in every culture and epoch of time, the exploration of human and/or planetary annihilation has preoccupied the art and mythology of humanity as an ever-present psychic force. Sourced in natural disaster and phenomena, religious prophecy, and technological proliferation, the interrogation of apocalyptic potentialities has inspired a large body of world literature that seeks to predict, explain, warn against, or avoid the imminent event. These "prophetic disclosures" focus not only on the cataclysmic end of the physical world, but at times also reside in a metaphorical plane—the spiritual, psycho-social, or moral collapse of a civilization or the human race, for example. These literal and figurative depictions of foreboding are always sourced in and centered on the actions of humanity, ultimately revealing an absolute accountability for wrongs done to fellow man, creation, or its creator. As we engage texts from various centuries, continents, textual mediums, and cultural contexts, we will be served principally by the application of postmodern and postcolonial theoretical lenses. "Icons" or entities that one can expect to encounter in this course include nuclear warfare, zombies, gods and texts of Eastern and Western dynastic traditions, climate change, comic books, and corporate greed. The end is near.
ENG 062: Literature and Gender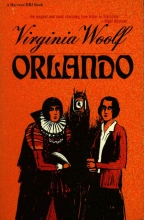 In this small seminar, students read several texts—stories, poems, and plays—that deal with issues of gender. Students will read works written by men and women, and in various times and places, and will think about the way that gender is portrayed and performed by the narrators, speakers, and characters involved. Texts may include things likes Marie de France's medieval romances, Shakespeare's As You Like It, Oscar Wilde's An Ideal Husband, Virginia Woolf's Orlando, Toni Morrison's Song of Solomon, and the poetry of Elizabeth Barrett Browning, Allen Ginsberg, Walt Whitman, and Adrienne Rich. Students will hone their close reading skills, attending to the ways in which formal language choices create meaning, especially meaning that is related to the representation of femininity, masculinity, and queerness.
ENG 064: LGBT Fiction
 In this seminar, we will explore classic works of twentieth- and twenty-first-century LGBT fiction, from Radclyffe Hall's The Well of Loneliness (1928) to James Baldwin's Giovanni's Room (1956), from Jeanette Winterson's Written on the Body (1993) to Dennis Cooper's The Sluts (2005). How have certain LGBT authors embraced classic novelistic subgenres and frames, such as the epistolary novel, the Bildungsroman, and the marriage plot, to make sense of same-sex desire and love, political oppression, resistance, and solidarity, the competing impulses to be "normal" and yet to maintain difference? Conversely, in what ways have LGBT writers defied aesthetic and psychological conventions in their narratives, pushed the limits of the novel, resisted the epistemological and (Western) cultural temptation to be defined by sexual identity? What exactly is "sexuality" anyway? This seminar welcomes all students, particularly those interested in the politics of identity, in representations of sexuality, and in edgy works of literature.
ENG 065: Literary Comedy
According to E.B. White, "Analyzing Humor is like dissecting a frog; that is, it can be done, but the frog tends to die in the process." In this course, we are going to try to kill frogs. Or to put it less glibly, we will try to understand one of the most interesting of human characteristics, our ability to take deep pleasure in disrupting the serious order of things.  While much comedy is ephemeral, human beings have made almost as capacious a record of comic as of religious art.  We will sample widely from this record, examining various kinds of comedy (including humor, satire, burlesque, parody) in several literary genres (plays, novels, short fiction, and film) from Aristophanes to the Monty Python. In our study we will also read a large number of theories of comedy in hopes that these theories will enrich our understanding and appreciation of the risible.  In our theoretical readings, we will look at the social and psychological dynamics as well as the ethical implications of various kinds of comedy. 
While this course is about jokes, it is not one.  You will be asked to read a large amount and will write a great deal.  While many of the primary texts are light, the theoretical ones are not.  Yet despite—or perhaps because—of the work, the course will be fun, at least if you come into it with a sense of humor and faith that some of the frogs will live.
ENG 066: Literary Romance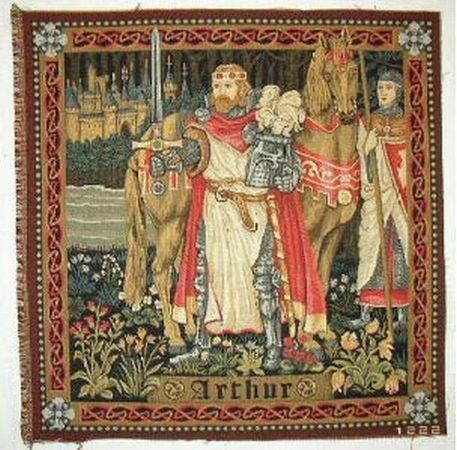 Literary romance (not the Daniel Steele kind!) develoed in the European Middle Ages, with stories of knights on quests, magical wizards and witches, and people in love. The genre has never lost its popularity: everything from Arthurian stories like Sir Gawain and the Green Knight to Shakespeare's late plays like Cymbeline to the Star Wars films can be classified as romance. Romances usually involved a character leaving society, being tested and pushed to his or her limits whil encountering magic and adventure, and then eventually being reincorporated into society. In this class, we tested and pushed to his or her limits while encountering magic and adventure, and then eventually being reincorporated into society. In this class, we will read a broad range of English and French literary romances: medieval chivalric tales, long poems and plays that take up romance structures during the Renaissance, later novelistic and short story versions from the nineteenth century, and finally, romances on film.
UPPER DIVISION COURSES REQUIRED FOR ENGLISH MAJOR:
ENG 100/SPAN 100: Engaging Texts: Introduction to Critical Practice
English 100 is an introduction to issues and approaches in literary theory and criticism, with an emphasis on applications of methods to selected literary texts. The course provides an interdisciplinary survey and analysis of the critical tradition as well its major movements, schools, thinkers, tensions, and interventions. Documents and critical readings prepare students for engagement in literary practice and textual interpretation.
In this course you will expand your repertoire as a critical reader of literature, and become familiar with the history of literary theory and major modes of criticism from 1965. Theoretical readings span the centuries from Aristotle to Žižek and beyond, and are assigned alongside canonical and non-canonical examples of primary works of literature chosen from across genres, forms, periods and cultures. Lectures are designed to maximize knowledge of theory with application and practice, and prepare students for the depth and variety of literature they will encounter in the English and Spanish majors. Offered every semester.
Note on survey courses (101-104): these course need not be taken in order, though it is recommended.
ENG 101: Medieval and Renaissance Literature and Culture
I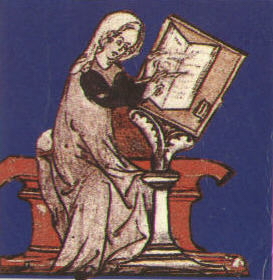 n this class, we will meet men who battle monsters and green knights, secret lovers who send messages through a swan, real townspeople who put on pageants in the city streets, and a sympathetic Satan. We will also learn about the history of England from the eighth through seventeenth centuries and the music and art and architecture of these periods, as well as the politics and religions that shape and are shaped by these artistic forms. Texts include Beowulf, the magical lais of Marie de France, selections from Chaucer's Canterbury Tales, medieval biblical plays, selections from The Book of Margery Kempe, Doctor Faustus, poetry by Wyatt, Queen Elizabeth, Sidney, Shakespeare, Herbert, and Donne, and selections from Paradise Lost. Offered every other fall: 2016, 2018, 2020.
ENG 102: English Literature 1660-1837 (Restoration, Early Colonial, and Early Romantic Literature)
In ENG 102, we will survey literature in English from 1660 to 1837, which is to say, we will survey the literature of a period that witnessed at least five revolutions commonly discussed in history—part of the English Civil War, the "Glorious Revolution," the American Revolution, the French Revolution, and the Industrial Revolution.  More importantly, perhaps, the period witnessed revolutions in ideas and mores.  It should come as no surprise that the literature of this era both shaped and critiqued these revolutions.  So put on your three-cornered hat and prepare to revolutionize yourself. Offered every other spring: 2017, 2019, 2021.
ENG 103: British and American Literature, 1830-1940
In this course, we explore the literary history of the British Isles and North America in the Great Age of Modernization, the nineteenth and early twentieth centuries. It is a period of unprecedented and unsettling change: technological and scientific innovation, the expansion of global capitalism, the rise and fall of the largest empire in history, national and international trauma—the American Civil War, the First World War, the Great Depression. It is a paradoxical age: democratization and individualism, on the one hand, white supremacy, economic exploitation, and mechanization, on the other. It is an age of extremes: materialism and consumerism, but also soul-searching, a yearning for enchantment and sublimity. An epoch of unbridled optimism, of aesthetic and social experimentation, it is nevertheless marked by nostalgia, anxiety, and epistemological fragmentation, the sensation of a world coming apart. In short, English 103 is the story of modernity at its height, of the women and men who capture in language the discombobulating experience of modern life. Offered every other fall after 2016: 2017, 2019, 2021.
ENG 104: English Literature after 1945 (Post-War, Post-Colonial, Postmodern)
Literary and cultural studies have been radically altered by the introduction of discourses that interrogate colonialism, power, and empire. The unidirectional gaze from center to periphery has been returned, and the resulting parallax has created important anti-colonial frameworks and methodologies for engaging with the literary and cultural production coming from former colonies in every continent. These interrogations, post-colonial and postcolonial, place terms like identity, subjectivity, decolonization, migration, language, terror, hegemony, truth and knowledge in a renewed crucible. Postmodernism/post-modernism has also splintered and exploded the determinacy of literature and language. Master narratives are made to face their ironies, and a process of destabilization to the certainty of history, periodization, identity, epistemology, presence and meaning, occurs through prolonged critical pauses on difference, the symptom, the trace and minor characters. In the latter half of the twentieth century, these modes of analyses have intersected with studies of disability, gender, race, feminism, sexuality, economy, transnationalism, postnationalism, whiteness, and the environment, to greatly diversify and transform the production and study of literature. This course enters into that post-1945 realm, introducing students to an array of literature and theory that signifies, plays with and forms an inter-textual relationship with narratives they will have encountered in earlier surveys in the ENG 100s sequence. Students are encouraged to be as careful and daring as the texts they encounter. Offered every other spring: 2018, 2020, 2022.
ENG 190: Senior Thesis
As the capstone for the English major, this course asks you to demonstrate, to extend, and to reflect on your learning. You will demonstrate and extend your learning by producing a thesis that will ask you to apply what you have learned in a slightly larger and more rigorous way than you've been used to. You will reflect on your learning by writing a short reflective essay that asks you to discuss what you think your work in the English major has done for you. Offered every semester.
UPPER DIVISION SEMINARS: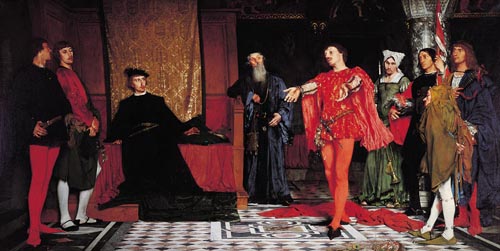 ENG 105: Shakespeare's Medieval Inheritance
When Hamlet warns an overzealous player, "I would have such a fellow whipt for o'erdoing Termagant, it out-Herods Herod" (III.ii 13-14), he refers most probably to the character of Herod in the Coventry Corpus Christi Cycle. These annual pageants were staged until 1579, and there is evidence to suggest Shakespeare attended them as a boy. But both Corpus Christi drama and morality plays have long been labeled as "medieval drama," despite their continuing popularity in the sixteenth century. In this class, students will read a number of medieval and early Tudor English plays before exploring a selection of Shakespearean drama in order to re-think this period of theatrical history. They will also examine the emergence of the public theatre, the impact of the Reformation on theatre and on drama scholarship, and the roles of memory and ritual in the performance experience of both contemporary and modern audiences. In addition to reading these texts, students will experience the plays through live performances and on video.
This upper-division seminar will give English majors interested in Shakespeare or drama more generally a chance to explore the medieval and early Tudor works that inform Western drama. Students read a variety of dramatic texts both obscure and canonical, learning about the religious and performative resonances these continue to have today. Students develop their analytical skills by comparing texts across historical periods and thinking about how these texts interact with broader cultural, social, and political movements. Additionally, they creatively explore this literature in the course's special project, which may be performative in nature.
ENG 106: Early English Drama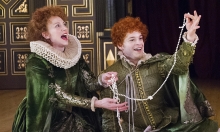 Shakespeare is not the only early English playwright, and in this class students read important medieval and Renaissance plays written by Shakespeare's predecessors and contemporaries. Students will be exposed to several early dramatic genres: biblical Corpus Christi pageants, morality plays, saint's plays, interludes, comedies, and tragedies. Students also learn about the performative, religious, and political contexts of these plays, which were performed in city streets, in monasteries, in aristocratic dining rooms, and in professional theaters, and before Kings and Queens as well as lowly servants and farmers. Students will start to re-think this period of theatrical history, questioning whether or not traditional scholarly distinctions like "medieval" and "early modern" really serve these often overlapping dramatic traditions. In addition to reading these plays, students will experience them on video recordings and learn to analyze live performance.
This upper-division seminar will give English majors interested in drama and/or in British literature a chance more fully to understand the medieval and early modern plays that inform later Western literature and indeed often influenced crucial historical events. Students develop their analytical skills by comparing texts across historical periods and across genres, and thinking about how these texts interact with broader cultural, social, and political movements like the Reformation, a female monarch, or the emergence of public theaters. Additionally, they creatively explore this literature in the course's special project, which may be performative in nature.
ENG 113: US Latino/a Literature
This course offers a representative overview of U.S. Latino literature, from colonial times to the present. A socio-historical framework is outlined in order to establish a larger context from which this literature can be approached. Through the analysis of works from different genres, the student is exposed to the main themes, techniques, styles, etc. of some of the most influential Latino authors, including several writers from the Central Valley. Main aspects to be covered include: literary history (including issues of canonicity and reception), bilingualism and literature (including both stylistic and sociolinguistic approaches), ethnicity and race, gender parameters, the aesthetics of the borderlands, class and regional variations, migration and diaspora, children's literature, literature and folklore, and the journalistic tradition, among others.
ENG 114: Latinos/as in Children's Literature and Film
This course will engage students in an in-depth study of Latinos/as in children's literature and film, with special attention to issues of representation and self-representation, reception, publishing, markets, stereotypes, historical evolution, bilingualism and other linguistic issues. The course combines film analysis and literary criticism to explore how Latinos/as have been represented (and have represented themselves) in these media. In addition, the course exposes students to social and cultural aspects of the Latino/a experience in the US that are essential to this type of analysis (including demographics, gender, class, and race nuances) as well as to pedagogical and educational considerations.
ENG 115: Chicano/a Literature
This course offers a representative overview of Chicano/a literature, from colonial times to the present. A socio-historical framework is outlined in order to establish a larger context from which this literature can be approached. Through the analysis of works from different genres, the student is exposed to the main themes, techniques, styles, etc. of some of the most influential Chicano/a authors, including several writers from the Central Valley. Main aspects to be covered include: literary history (including issues of canonicity and reception), bilingualism and literature (including both stylistic and sociolinguistic approaches), ethnicity and race, gender parameters, the aesthetics of the borderlands, class and regional variations, migration and diaspora, children's literature, literature and folklore, and the journalistic tradition, among others.
ENG 116: Literature and History of the 1960s
The 1960s was a decade of turbulence, hope, protest, and change.  This course seeks to understand the historical reality of the United States during this time by exploring, among other types of writing, the literary output resulting from war protests, radical movements, and racial stands.  It seeks to understand those factors through the global and often transnational reality of a world both watching and participating with the many movements and stances that mark the decade and which, as the course will explore, led to permanent changes in politics, society, and culture.  As is befitting the solidarity that themed and drove the 1960s, this class is a seminar.  It is paired intellectually and physically with HIST 135, History of the 1960s, and Professor Sean Malloy joins me in team-teaching this class.  Much of the learning takes place though the medium of conversation.  Thus, the classroom is defined as a shared space where students and professors collectively work through the issues raised textually and experientially.  The success of the class depends on students' ability to engage in conversation that is informed, respectful, challenging, and hopefully fun and exciting. Thus, students are required to come to class having done the assigned reading for that day and prepared to engage in an informed discussion about the issues, questions, and challenges raised by the readings.  Readings include novels, poems, essays, manifestos, and, when appropriate, internal documents of movements such as the Black Panther Party, the Brown Berets, the National Organization of Women, and more.
ENG 117: Literature of California
Whether the Gam Saan of mid nineteenth century Chinese pioneers, the manifest destiny of their Anglo counterparts, the failed Eden of Dust Bowl migrants or the land of fruits and nuts, California has been as much the product of dreams as it is geology.  Imagined into existence, as Jack Hicks wrote in the introduction to The Literature of California, Volume I, the state has long carried the burden of its own representations of wealth and prosperity, and the conflicted histories of those who come in contact with them for better or worse.  Those points of conflict have often resulted in some of the state's most poignant and well-known stories, as writers have crafted tale after tale of the often-difficult path to finding home in California.
ENG 119: Fashion and Fiction
How can fashion help us understand the humanities? Do we blur the lines between these two subjects or, alternately, engage in a study of contrasts between them? How can the humanities further illuminate the already burgeoning and complex field of fashion studies? This class seeks to explore these and other questions about the relation of fashion studies and the humanities, taken for the purposes of this course as literature, film, and art. Given the often material culture of many humanities approaches, particularly the idea of expressive culture as it is produced, distributed, and consumed,an increased understanding of both the humanities and fashion resides within Bruno Latour's notion of a 'material-semiotic' network. As highly interdisciplinary fields in their own right, fashion and the humanities encourage us to engage inter/intra/multi disciplinary scholars across a range of campuses.
ENG 122: Nature Writing and the Environment
This Course takes the term literature as a wide concept and embraces the idea of wilderness, nature, and the natural world in a global perspective, unbound by time or place.  All nations have some level of relationship with the natural world, and when writing about that world, poets, essayists, novelists and musicians tend either to sing its praises or bemoan humankind's inability to preserve it or save it.  This class explores a variety of genres and topics within the wide rubric of nature writing.
ENG 129: Topics in Literature and Culture
This topics course allows instructors the ability to design a new class around a certain topic related to any literature of the English language and its cultural context. The course will be especially attractive when we have temporary lecturers needing to add a new course, or if our ladder-rank faculty members want to try a new topic out before adding it to the regular English catalog. This upper division seminar, like all upper division seminars in English, will require a large amount of reading of primary texts (works of literature), as well as reading literary scholarship and developing research and writing skills.
ENG 132: Human Rights and Literature
A human rights revolution gained momentum at the midway point of the twentieth century, resulting in collections of global rights and protections that individuals could not previously appeal to in the face of abusive governments and regimes. This course traces the development of the social, legal and political discourses of global human rights, and the inter-related emergence of art forms—novels, stories, films, public spaces, monuments, museums, theater, paintings, sculpture, etc.—that embody, challenge and critically engage with human rights ideas. The course examines the foundations of human rights, its modern and contemporary formations, as well as key organizations, concepts, documents, treaties, and statutes that have combined to cast human rights as a global lingua franca. Debates about human rights will emphasize the legal and political, as well as the artistic and imaginative.
ENG 135: Working Class Literature-British
In this course, we will read novels, plays, and poems that depict and/or are written by members of the working classes in Victorian England. We will interrogate the ways that working classes are portrayed by middle- and upper-class authors, and we will also read texts written by members of the working classes themselves.
ENG 136: Working Class Literature-American
This interdisciplinary course examines the rich tradition of the working class in the United States.  Using wide definitions of the working class, the course explores the myth of a "classless" United States, especially as that myth is interrogated and reinterpreted through literary production about and by the working class.  In this way, the course focuses on the production and consumption of class, status and identity as a site of social critique. It examines historical links between formulations of class and status and attendant meanings of literary canon and modes of literatures, and explores how various expressions of class position function as aesthetic, rhetorical, and ideological texts within specific cultural contexts. 
ENG 150: Geoffrey Chaucer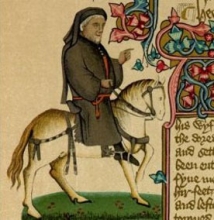 Students examine the extraordinary and extraordinarily influential work of the 14th century writer Geoffrey Chaucer. Students use his dream poems, lyrics, Troilus and Criseyde and The Canterbury Tales as vehicles to explore medieval literary production. Students are thus exposed to several major literary genres practiced in the Middle Ages, and will understand how Chaucer's works express, reflect, and influence the concerns of the various classes of people in 14th century England. Students also gain the ability to read Chaucer's Middle English with confidence. And, they gain an understanding of how medieval literature differs from modern literature (and from modern notions of what literature is): for example such issues as the distinction between a printed edition and a medieval manuscript; the different definitions of what constitutes a literary work in manuscript and print cultures; the tension between Latin and vernacular literatures; the emphasis on literature as an on-going process rather than an end product (and thus the inappropriateness of notions such as "originality" or "intellectual property" in the medieval context); and the sort of decisions facing the editor of a medieval text. Finally, they learn about the afterlives of Chaucer's works, the ways in which his writing forever changed both Western literature and the English language. 
ENG 151: Advanced Shakespeare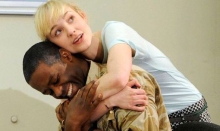 In this course, students will read several of Shakespeare's plays across many genres: comedies, tragedies, history plays, problem plays, and romances. They will also read about the theatrical, political, religious, and social contexts that shaped these plays, and consider why they continue to be so popular throughout the world. They will learn about both historical and modern-day performances of Shakespeare's works by reading about them, viewing them, and acting in them. This course will require a great deal of reading, research, and writing, and as such is a much more advanced course than Introduction to Shakespeare (ENG 20).
ENG 154: Emily Dickinson
"This was a Poet – it is That/Distills amazing sense/From ordinary Meanings–/An Attar so immense." This class examines the extraordinary poems and letters of the American poet Emily Dickinson, as well as the poems of poets who were her contemporaries, predecessors, and descendants. Students explore the myriad and overlapping ways in which she so uniquely expressed her thoughts on selfhood, nature, love, God, pain, death, women, and the household. Through examining her poetry and reading about her life in 19th century New England, students will consider historical issues of gender, class, and religion, understanding how these contexts shape and illuminate her challenging poetry. The class also hones close reading skills for lyric poetry (attending to rhyme and slant rhyme, meter, and punctuation), learns about editorial issues including textual variants, manuscripts, and her groupings of poems into sequences, and reads about Dickinson afterlives (poems, plays, and books she inspired) before producing their own creative response to her work.
ENG 155: James Baldwin and Toni Morrison
This major authors seminar examines the inter-sectional aesthetics of critical categories such as race, gender, sexuality, politics and religion, through a comparative reading of the novels, stories, plays, essays, speeches and biographies of James Baldwin and Toni Morrison.
ENG 164: Great Authors
In this course we will be closely examining the writing of one particularly influential writer, and often in addition the work of that writer's contemporaries, predecessors, and descendants. We will explore the ways in which this writer uniquely expressed her or his ideas, and their influence on later writers. We'll also be thinking about formal matters—how to read the kind of literature this author produced. Potential Great Writers who will be the topic of this course include but are not limited to: Jane Austen, John Steinbeck, John Muir, and Christopher Marlowe.
ENG 165: Tragic Drama from Ancient Greece to Present Day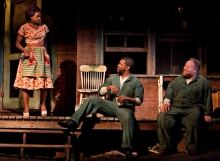 In this course, student read plays written thousands of years ago as well as very recently, all while exploring the questions of what makes a play a tragedy, and what function tragedy serves for the many times and places that produce this genre of drama. Students read tragedies written in ancient Greece (Aeschylus, Sophocles, Euripides), in Elizabethan England (including Marlowe and Shakespeare), in nineteenth century Europe and Russia (including Ibsen and Chekhov), and in 20th and 21st century America and Britain (including Beckett, Brecht, Wilson, and Suzan-Lori Parks), and think comparatively the various times and places that produced these plays. In addition to exploring tragic plays as literature, the class considers drama's performative possibilities by watching both filmed productions and the student-performed presentations that will make up one requirement of the class. Additional requirements include two papers, a final, attendance at a play, and active participation in discussion. 
ENG 185: Reading from the Margin
This course will explore the question of how to read canonical works from the margins. We will analyze such issues as: difference and sameness; the construction of the self and of the other; and reading as a culturally-situated activity. The class is structured around broad topics such as gender, family, violence, faith, fantasy, memory, love, and history. As we study these topics and questions, we will consider such critical aspects as intertextuality and literary history, among others. The class will also problematize the notion of canon, as we explore commonalities between the canon and the margins.
ENG 186: Language, Gender, and Culture
The relationship between language and gender has been a widely researched and debated topic in sociolinguistics, English language studies, and linguistic anthropology since the early 1970s when Robin Lakoff published Language and Woman's Place. Since then, the intersections of gender, race, class, sexuality and other social categories have informed these critical conversations. In this course, students explore the questions researchers have asked regarding these relationships: How do patterns of speaking and interpreting reflect, perpetuate, and create our experience of gender? How does gender interact with sexual identity, race, class, socioeconomic status, age, occupational and social/familial roles, institutional settings, and other factors in terms of how we speak? Does gender connect to language change? What do controversies about sexism and other biases in language suggest about the connections between language, thought, and socially situated political struggles? No background in linguistics is required; a genuine interest in the workings and power of language is highly recommended.
ENG 195: Directed Study
One on one research between a professor and a student has become in many ways a hallmark of UC Merced, and its intellectual strength.  Our campus is able to provide glowing public relations releases about one on one interaction between students and professors not simply because it happens, but because it happens well.  ENG 195 expands this revered tradition into a fully articulated model for research in the humanities: how such research occurs, and how it affects our understanding of literature, what we teach, what we read, and what we value.
ENG 196: Internship
This course is designed to provide students with an opportunity to apply knowledge gained in the classroom to a real world setting. Units will be awarded based on the number of internship hours successfully completed. Interns will work closely with their site supervisor in designing the specifics of the internship. The site supervisor will be given information on purpose and requirements of the internship through the Guidelines for Internship Supervisors. The Career Resources Center will provide assistance to the student in locating possible internship sites in the community, which may include community arts organizations (Playhouse Merced, Merced Shakespearefest), schools and educational outreach organizations, or other businesses or non-profits needing and developing the communication and analytical skills an English major offers.
ENG 198: Directed Group Study
Directed group study forms a coherent research cohort whose work is focused on one topic or a network of topics that relate.  The class will likely begin with one or more group meetings, perhaps to read a novel, play, or collection of stories or poetry together, perhaps to watch and discuss a relevant film.  From that point, students should outline their own contribution to the shared research goal, explaining what they will do and how it contributes to the topic and/or research goal.  At the conclusion of the course, students should re group, and each should present their work in a poster format, with all in the group engaging in discussion and feedback.