Why major or minor in English?
What do I learn from an English major or minor?
• The major in English at the University of California, Merced, asks students to recognize the complex interactions of culture and literature. Literature and literary criticism are significant parts of an age-old, continuing conversation about the meaning and value of human society. So we think about the way artists and thinkers across centuries have used literature to ask big questions, tell stories and create beauty.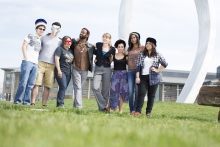 • The study of literature enables one to engage these conversations richly, both for personal development and for the ability it gives one to be a responsible agent in the many societies each person inhabits.
• Moreover, literary study gives one insight into how cultures operate in such a way as to facilitate ethical cross-cultural interactions. Literary study facilitates such agency by teaching readers how to understand — an understanding that engages intellectual, ethical and aesthetic faculties — and then critique literary artifacts. See for example this article in the New York Times: http://www.nytimes.com/2013/12/22/opinion/sunday/triumph-of-the-english-...
• The English major and minor teach transferrable skills that are attractive to employers in all sectors, from engineering to law to medicine to business. See for example this article from Business Insider:
http://www.businessinsider.com/11-reasons-to-major-in-the-humanities-2013-6
Or this advice from Stanford: https://english.stanford.edu/information-for/undergraduates/careers-afte...
Or this English major career page: http://www.lsa.umich.edu/english/careers/default.asp
Or this recent Forbes article on how humanities and arts majors are the tech industry's new "hottest ticket": http://www.forbes.com/sites/georgeanders/2015/07/29/liberal-arts-degree-...
What can I do with an English major?
An English major is one of the most popular liberal arts degrees in the world; this is a bachelor of arts that is immediately recognizable to employers, graduate schools and law schools. These employers and schools will know that by hiring or accepting an English major, they are hiring someone who can interpret and analyze texts, think critically and view problems from multiple perspectives, have empathy for others, and communicate and write clearly.
English majors become: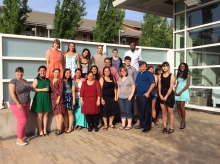 • journalists, writers, editors, poets, translators: producing and distributing new writing
• teachers and librarians: sharing their love of literature, theater, or writing
• lawyers: applying their skills of analysis and interpretation
• doctors, nurses, physical therapists: using a capacity for diagnosis and communication
• entrepreneurs, marketers: leveraging their communication and analytical skills to succeed in the business world
• social workers, politicians, non-profit workers: applying social justice insights to work for a more just society
UC-Merced English and Literature Graduates in the World 
UC-Merced English and Literature alumni have been accepted into law schools and graduate programs in writing, literature, journalism, education, and sports management. Our students have received Teach for America and AmeriCorps positions, and jobs at Yosemite National Park, the UC-Merced library, and various high schools, for a few examples. Our students have traveled to Taiwan to write and to South Africa to study after gradaution, and one has stayed in Merced to open a local and highly successful coffee shop.